Our methods and techniques are applied in an integrated manner across our services and we use various techniques (some of which we have developed over time). Ancilliary services, which are part of our key services are sometimes also provided as stand alone services. They are: defining for design; long term planning; strategic formulation; workshop design and delivery; strategic facilitation; community and stakeholder engagement.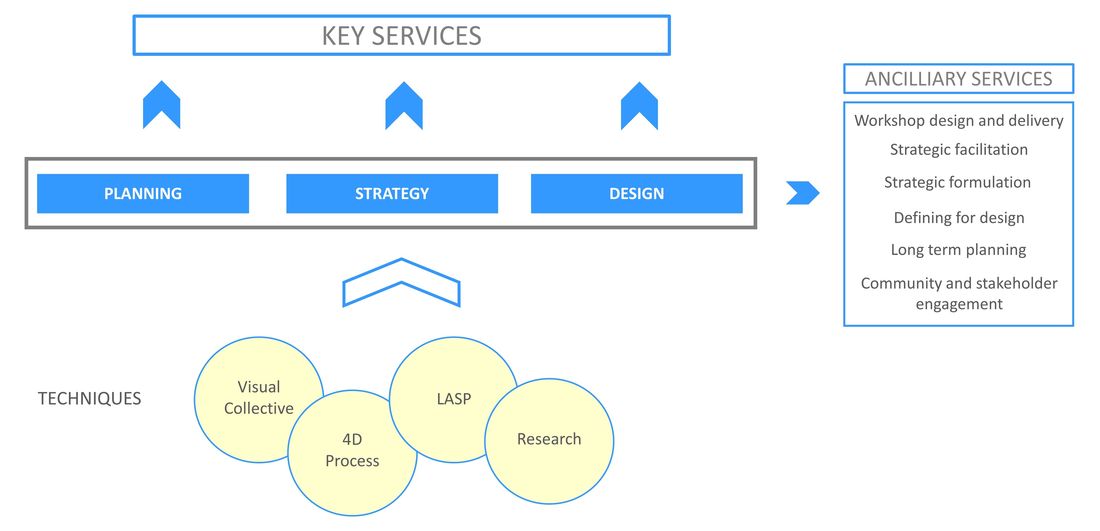 Our Techniques
Techniques that we apply to do our work have been acquired over many years, some we have developed ourselves and we keep learning new ones. This is helpful for getting to the bottom of problems (rather than dealing with symptoms) and finding ways that sustainably address challenges. Some of the techniques are:
Visual collectives (a visual technique)

4D problem solving technique (propriety)

The LASP process technique (propriety)

Various research techniques
As part of collaboration, we also work with others who bring in other methods and techniques that may be required. Users of an eco-system have a sound understanding of the issues and problems in the system and we work with them and other stakeholders. We bring many voices, experiences, expertise and interests together and we harnesses the various participants in the system to draw-out insights and co-author solutions or designs.
Our philosophy and approach
The directors of Latitude 4-40, draw great inspiration from biblical principles for the approach in their work. We recognise our stewardship of what God has given us and we seek the betterment of life for people. We are:
Ethical- we apply honesty, commitment and accountability
Creative- we strive to provide outside of the box solutions (with latitude) to problems
Facilitative- we work to make it easy and connect the right people and elements in the eco-system
Please contact us for more information on our services.